Entradas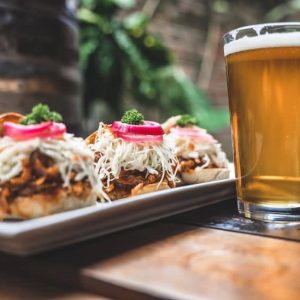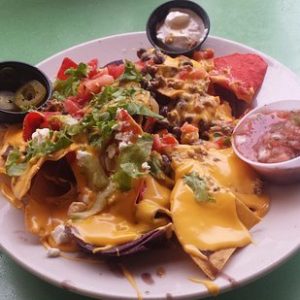 Drunken Nachos
House tortilla chips, pulled pork, blackened salsa, jalapeno jack cheese, jalapenos, marinated onion, pico de gallo, red beans, guacamole.
C$510
Salsa and chips trio
Homade chips served with blackened salsa, guacamole and black bean hummus.
C$388
Elote Loco
Mexican style grilled street corn on the cob smothered with a creamy cilantro spread and a spicy chipotle dusting
C$210
Tostones desarmados
Salty fried green plantain  rounds served with bean dip, local cheese, avocado, cream sauce and pico de gallo
C$360
Tacos
Salads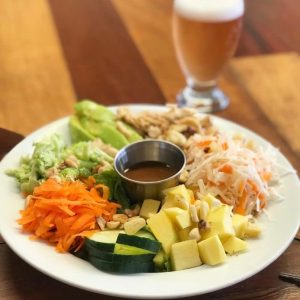 Asian Salad
Fresh organic greens with sliced avocado, chopped mango, cucumber, carrot, brocoli & cabbage with a spicy peanut dressing and topped with crispy garlic flakes, roasted peanut and ginger.
C$510
Kale power salad
Chopped kale, spicy butternut squash, cucumber, charred borocoli, feta cheese, honey mustard dressing.
C$428
Fuertes
Texas Toast Burger
Hamburger mixed with herbs de provence served with crispy onions, pimento, cheese, lettuce, tomato, pickles and bacon, aioli and buttered texas toast.
C$455
Plato special
Choice of protein, rice, beans, sauteed vegetable, fried green plantain. Choose: Smoked pork loin medallions , Catch of the day a la plancha, grilled chicken breast.
C$388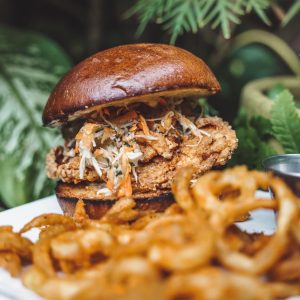 Crispy chicken sandwich
Fried chicken breast in a spicy honey glazed with asian slaw, pickled jalapeños and honey dijon mayo on a toasted brioche bun with fries.
C$537
Burrito bowl
Coconut-cilantro-lime, rice with Mexican street corn, guacamole, pico de gallo, red beans and fresh bell pepper toped with an enchilada sauce & chipotle crema.
C$565
Brewmaster Burrito
Smoked pork carnitas, pickled watermelon rinds, crispy fried onions, shredded cabbage, beans, rice, cheddar cheese. served with avocado crema dipping sauce.
C$361